Welcome to our comprehensive guide on CS Cart, a powerful e-commerce platform that can turn your online store into a thriving business. In this blog, we'll explore the features, benefits, and key reasons why CS Cart is the ideal solution for e-commerce success.
What is cs kart? CS Cart is an all-in-one e-commerce platform that provides a robust and feature-rich environment for building and managing an online store. It offers a wide range of tools and functionalities designed to streamline your business operations, enhance customer experience and increase sales.
Main Features of CS Kart:
Multi-seller functionality: CS Cart allows you to create a marketplace where multiple sellers can sell your products on your platform, expanding your product offerings and increasing revenue potential.
Responsive Design: With CS Cart, you can create a mobile-friendly and visually appealing online store that provides a seamless shopping experience across a variety of devices.
Advanced Product Management: Easily manage your product catalog, inventory, pricing, and variations with CS Cart's intuitive product management system.
Flexible Payment Options: CS Cart supports various payment gateways, making it convenient for your customers to make secure transactions using their preferred payment method.
SEO-Friendly: CS Cart is built with SEO best practices in mind, allowing you to optimize your online store for higher search engine rankings and increased visibility.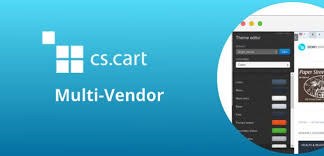 Benefits of using CS Cart:
User-friendly Interface: CS Cart provides an intuitive and user-friendly interface, making it easy for store owners and administrators to manage their online stores without the need for extensive technical knowledge.
Scalability and Customization: Whether you are a small business or a large enterprise, CS Cart can scale to meet your growing needs. It also offers customization options, so you can tailor the platform to your specific business needs.
Strong Security: CS Cart prioritizes the security of your online store and customer data, providing advanced security measures to protect against potential threats and fraud.
Dedicated Support and Updates: CS Cart offers dedicated customer support and regular updates, ensuring that your online store stays up to date with the latest features, bug fixes, and security enhancements.
Frequently Asked Questions (FAQs):
Q1: Is CS Cart suitable for startups and small businesses?
Answer: Yes, CS Cart is an excellent option for startups and small businesses. It offers a cost-effective solution with powerful features that can help you establish and grow your online presence.
Q2: Can I integrate CS Kart with other third-party applications?
Answer: Yes, CS Cart supports integration with various third-party applications and services, such as payment gateways, shipping providers, and marketing tools, allowing you to enhance your e-commerce operations.
Q3: Can CS Cart handle large product catalogs?
Answer: Absolutely! CS Cart is designed to handle large product catalogs efficiently. You can seamlessly manage and organize thousands of products within the platform.
Q4: Does CS Cart offer multi-language and multi-currency support?
Answer: Yes, CS Cart supports multiple languages and currencies, allowing you to meet the needs of a global audience and expand your business internationally.
Conclusion: CS Cart is a powerful e-commerce platform that offers a wide range of features, benefits and flexibility to enhance the success of your online store. Whether you're a startup, small business, or established enterprise, CS Cart provides the tools you need to create a seamless shopping experience for your customers and achieve e-commerce excellence.
So, why wait? Explore CS Cart today and take your online store to new heights of success!
Hire Cs Cart Developer Now !