What is the first thing that you expect before visiting any website? That's right. A beautiful looking design. A website with a good theme and a design will help you build a brand that enhances the quality of your business. On the other hand, if you have a dull looking website it leaves a rather bad impression and there is a huge probability that your customers will jump off to a better-looking website.
Before developing any website ask yourself the following questions :

Would you want an app that lags a lot while navigating?
Would you ever visit a page that fails to display the products and services that it promises to offer?
Would you download an app that looks very dull and boring?
If you have an online business, then you must have come across the term UI several times, or User-interface.
Let us dig a little deeper and learn more about User interfaces and how they are key aspects of your business.
What is UI?
To explain in simpler terms, UI is basically what you see when you first visit any website. It is an array of elements like web-pages, buttons, screens, toolbars and various other visual elements that represent any website.
A UI commands every bit a website, ensuring that any client visiting the website has everything that he needs in the right place.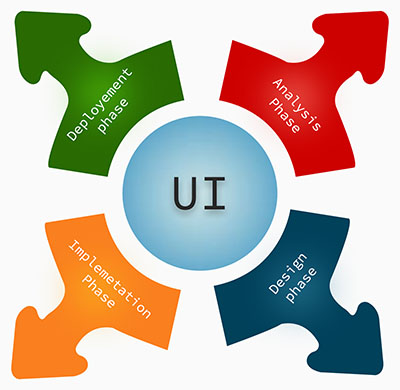 Why is a good UI important for building a better business?
1. How attractive your products/services look at the first sight is the key to success
If your website/app can make your products look attractive, half of your work in converting your client is done. According to a survey, more than 50% of the customers bounce back from the first page of a poorly designed website. Remember, you have less than 3 seconds to grab your customers attention.
This is the only reason why business owners nowadays invest a lot of money in creating the perfect UI for their websites/apps.
2. An optimized design means more business
The main aim of having a good UI is to offer an optimized website/app to your client so that they can navigate through the website as quickly as possible. If your page takes more time to open up, they e will leave within a second. You need to have that "Wow" factor in your website which is usually represented by the theme, layout, toolbars and empty space provided.
3. Readable content
Being a business owner your ultimate goal is to make your client aware of the products that your offer. You need to ensure that the content of your website is readable to all. A better UI enhances the readability of your content and prevents stuffing. This makes your website look clean and presentable to the audience.
4. Everything at the right place is mandatory :
The only way to keep your customer engaged on your website is by ensuring that each and every product is at the right place. If navigating through your website is a difficult process, there is no way that your customer will stick to your website. A smartly designed UI solves the problem here.
5. Overall functionality is the key:
In the end, it is the overall functionality of an app/website that actually matters the most. This is the reason why usability of an app or website is very important to the success of any business. A good UI ensures optimized images, optimized content, proper placement of toolbars and buttons, as well as other design aspects that ultimately boosts the speed of any website/app.
Always remember "Your website is your brand". Hence, it is always smarter to initially invest in developing a good quality UI that will help your business to survive in the long run. If you have a website that is better than your competitor's it is guaranteed that you will have more customers than him.